Let your dog brush his own teeth & freshen his breath!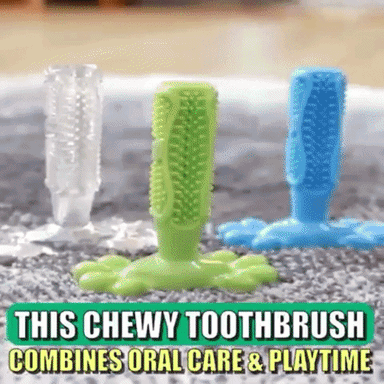 Typically, 80% of dogs experience oral health problems by the age of 3! This product is long lasting and designed for small and large powerful chewers. The dog tooth brush is the only dental chew toy for dogs that allows them to take control of their own dental health every day!
Common teeth toys promise that they clean your dog's teeth effectively, but the truth is that most can not even remove plaque. Wouldn't it be Great if your dog could brush their teeth every day? 
With our Easy to Use Dog Toothbrush now they can! The Toothbrush encourages pets to clean their teeth every day. It is designed to clean teeth on both sides, and it is angled to fit comfortably in your dog's mouth. It even contains a stabilizing base that allows your dog to hold it easier.

The only thing you must do is fill the toothbrush with dog toothpaste and let your dog play! Use Daily for 5-10 minutes.
Benefits

Made of safe, durable and non-toxic natural rubber.
Toothpaste container to store toothpaste.
Grooves with bristles brush the pet's teeth up to the gumline.
Easy to hold foot pads.
Studs on the side for extra brushing surface.
Specifications
Material: Rubber

Size: (M) 12.7x12.7cm, (L) 16x15.4cm

Color: Blue, Green
Package include