Home
/
Furniture Scratch Protector 18x12" (45x30cm)
Tired of Your Cat Scratching your couch or Furniture?
Scratching is something cats do to sharpen their claws. That's cute and all but why does it have to happen on the beautiful furniture?
It doesn't! This Furniture Scratch Protector will stop your furry friends from scratching your sofa, armchair, drapes, table legs, and any new expensive furniture you're getting.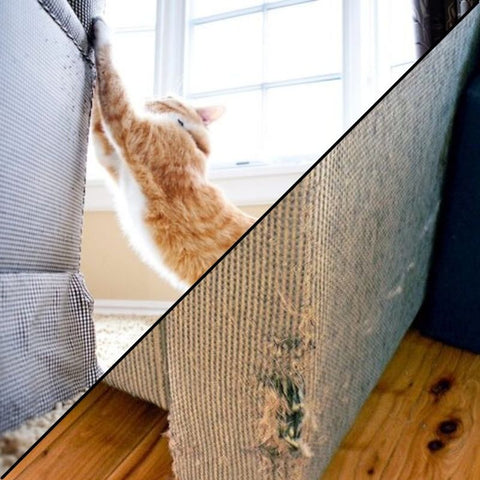 Benefits
✓Easy to Install
No need for straps or tools. Just peel off the self-adhesive film and stick it on whatever you want to protect. You can add extra safeguards by adding pins, and tailor them to fit your furniture.
✓ Crystal Clear
You don't have to remove it when guests are around. The solution is transparent and crystal clear. It will blend perfectly into the fabric, so you won't even notice it's there.
✓ Safe and Durable
It's made of non-toxic, marine-grade clear vinyl. The most durable kind. It's thick enough to deter cats from clawing and soft enough to conform to the contours of your furniture and keep cats' claws from shredding the sofa.
Tough and Flexible for Your Home
The scratch guard are made from high-quality, crystal clear vinyl that is resistant to damage from water, dirt, and other elements. Unlike standard vinyl, marine grade keeps its color clarity — so they won't yellow and is safe for Cats!
✓ Works on Leather & Wood
Yes, it sticks to leather, and no, it won't damage it if you peel it off. It doesn't require pins and doesn't leave a sticky film afterward. So, it's perfect for wood and leather furniture.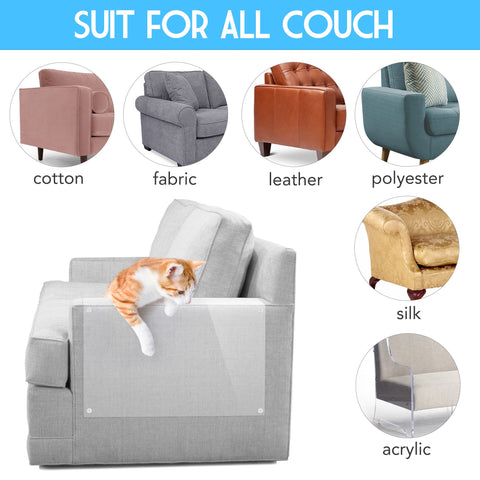 ✓ Cost-Effective Choice
They certainly cost less than a new sofa. It's a small investment to keep your furniture in pristine condition. The film lasts a while without needing to be replaced.
How To Use:

Step 1: Cut the sticker sheet to the desired length or use the whole sheet.

Step 2: Tear the white backing.

Step 3: Apply it to the furniture where your cat scratch.

Step 4: Peel away the backing to expose the clear adhesive.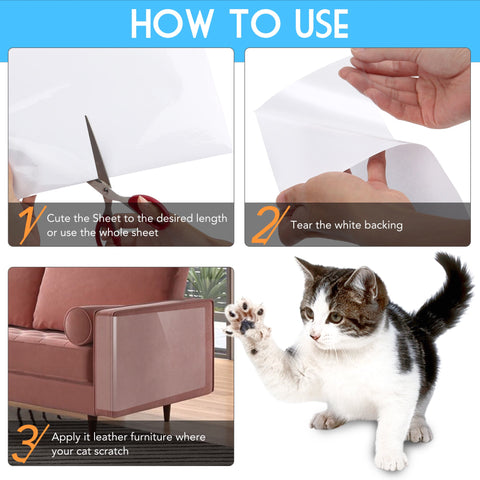 SUPER EASY TO INSTALL
✔️ UNNOTICABLE PROTECTION: Our scratch protectors are 100% transparent so you can place them where your pets scratch the most.
✔️ EASY TO APPLY: Simply peel the sticky covering off and apply it to the places your cat scratches the most. Use the included tacks for extra stability.
✔️ REUSE AROUND THE HOUSE: Once they stop using the spot simply remove the protector and reapply as needed.
✔️ APPLY ANYWHERE: Our protectors can be placed on leather, fabric, polyester, or just about every material. Place them where they are needed most and remove them with ease.